Kiev Travel Guide
Welcome to Kiev Travel Guide - ultimate guide for visitors to Kiev and the rest of the Ukraine.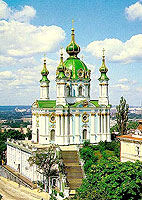 Whether you're investigating Kiev's colourful history, planning a trip, or looking for a place to stay, you'll find what you need in the Kiev Travel Guide. This tourism and travel guide for Kiev, featuring Ukrainian hotels, Ukrainian maps, restaurants & bars, Ukrainian tours, Ukrainian weather and more, will help you plan a successful trip to Kiev, the Ukraine.

Kiev (also known as Kyiv), a scenic city of close to 3 million people situated on the Dnipro River, is the bustling capital of Ukraine. Historically, Kiev is one of the most ancient (probably 1550 years old) and important cities of the region, the center of Rus civilization, survivor of numerous wars, purges and genocides. Many historical and architectural landmarks are preserved or reconstructed in the city.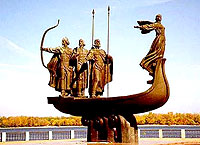 The art and architecture of Kiev are world treasures. St. Sophia Cathedral, where the princes of Kiev were crowned, has outstanding mosaics and frescoes dating back to the 11th century. Overlooking the old section of Kiev, Podol, stands the Ukrainian Baroque Andriivska Church (church of St. Andrew), much beloved by Ukrainians. Kiev-Pechersk Lavra, the Monastery of the Caves, a short trolley ride from the center of town, has two 11th-century cathedrals on its grounds, in addition to its world-famous catacombs, bell tower, and museum collections. Close to the center of town stands the Golden Gate, a structure which dates back to 1037. The remains of the Golden Gates of Kiev one of Ukraine's oldest surviving historical monuments stand in a small public park at the corner of Volodymyrska and Velyka Pidvalna Streets. Several blocks away, stands the magnificent 19th-century Cathedral of St. Volodymyr.

The modern center with surviving parts of the old city are on the hilly west, or right bank, of the Dnipro River. The main street, Khreshchatik, runs between two steep hills. Parallel about half a kilometer west, is vulytsya Volodymyrska, the main street of the Old Kiev area (Staryj Kiev). From the north end of Khreshchatik, vulytsya Hrushevskoho rises southeast along a ridge to the Caves Monastery at Perchersk. Woods and parks cover most of the steep right-bank slopes. Kiev's newer sections stretch out on the flat left bank. These are characterized by large housing developments and industrialized neighborhoods.
Kiev Travel Guide

7320 N Dreamy Draw Drive
Phoenix, Arizona 85020
(602) 553-8178
FAX (602) 468-1119

Contact Us



THIS PROGRAM IS THE SOLE PROPERTY OF KIEV TRAVEL GUIDE AND MAY NOT BE COPIED IN ANY WAY OR FORM WITHOUT EXPRESS PERMISSION FROM KIEV TRAVEL GUIDE.

© COPYRIGHT 1996-2023 - ALL RIGHTS RESERVED.