Ukraine President

The 1st president of independent Ukraine was Leonid Kravchuk, a former Communist turned nationalist. He became Ukraine's president in December 1991. Parliamentary and presidential elections were held in 1994, and Leonid Kravchuk was defeated by Prime Minister Leonid Kuchma.

Since his election, Leonid Kuchma has implemented a few market reforms, but the economy remains dominated by huge, inefficient state-run companies and has not improved significantly.

Communists won the most seats in the 1998 legislative elections. Leonid Kuchma was reelected in 1999 after defeating the Communist candidate, Petro Symonenko, in a runoff, and in December Viktor Yushchenko, the Ukraine central bank chairman and an advocate of market reforms, was chosen as prime minister. In April 2000, voters in a referendum approved constitutional changes that increased the Ukraine president's powers over parliament.



The dismissal of Prime Minister Viktor Yushchenko in April 2001, by parliament was a blow to reformers; he was succeeded by Anatoliy Kinakh, an ally of Ukraine president Leonid Kuchma. In the March, 2002, parliamentary elections Viktor Yushchenko supporters won roughly a quarter of the seats, as did supporters of the president. In November, Leonid Kuchma dismissed Kinakh as Ukraine prime minister and appointed Viktor Yanukovych to the post.

In December 2003, the Ukrainian supreme court ruled that Ukraine president Leonid Kuchma could run for a third term because the election for his first term had occurred before the current constitution took effect. The parliament also approved a constitutional change allowing it, rather than the voters, to elect the president, but opposition and international protests led the legislators to reverse their decision two months later.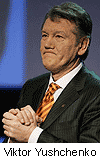 The 2004 presidential election appeared to mark a significant turning point for Ukraine. The government candidate, Prime Minister Viktor Yanukovych, advocated close ties with Russia while the opposition candidate, former Prime Minister Viktor Yushchenko, called for closer ties with the European Union and benefited from increased disillusionment with Leonid Kuchma. The October vote resulted in a narrow victory for Viktor Yushchenko, who had been poisoned by an unknown assailant during the campaign, but he failed to win a majority, forcing a runoff with Viktor Yanukovych. The November balloting was declared a victory for Viktor Yanukovych, but both it and the first round were denounced by most observers, who accused the government of holding an undemocratic election. Viktor Yushchenko's supporters mounted protests in the streets of Kiev and other cities of Western Ukraine, where his support was strong. Viktor Yushchenko also challenged the results in court. Meanwhile, Viktor Yanukovych and his supporters, who were more concentrated in the more heavily Russian east, denounced these moves, and the situation threatened to split Ukraine. Parliament narrowly declared the results invalid, an act with no legal significance, but in December the supreme court annulled the vote due to fraud and called for the runoff to be rerun. Ukraine's Central Election Commission declared Viktor Yushchenko the winner of the 26 December 2004 re-run of the runoff election, by 52% to 44% over Viktor Yanukovych. Finally, Viktor Yushchenko became the president of Ukraine.
Kiev Travel Guide

7320 N Dreamy Draw Drive
Phoenix, Arizona 85020
(602) 553-8178
FAX (602) 468-1119

Contact Us



THIS PROGRAM IS THE SOLE PROPERTY OF KIEV TRAVEL GUIDE AND MAY NOT BE COPIED IN ANY WAY OR FORM WITHOUT EXPRESS PERMISSION FROM KIEV TRAVEL GUIDE.

© COPYRIGHT 1996-2023 - ALL RIGHTS RESERVED.