Ukraine Visa
GENERAL INFORMATION ABOUT UKRAINE VISA
Passport and Visa are required for entry into Ukraine. Visa is a special document attached to your passport that gives you permission to enter/leave Ukraine during the period of time specified in your Ukraine visa. Visa type depends on the purpose of entry into Ukraine (a business, tourist, private, transit etc.).
HOW TO READ YOUR UKRAINE VISA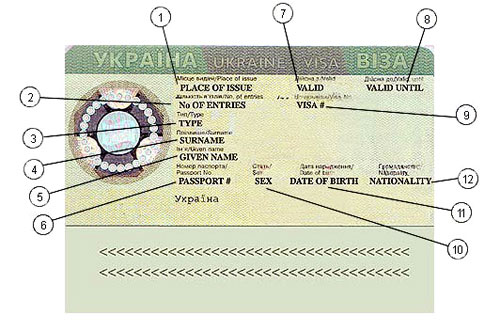 PLACE OF ISSUE (Location of Ukraine Consulate Chicago, Washington, D.C., New York or San Francisco).
No OF ENTRIES (Number of entries allowed into the Ukraine)
(1) - single entry Ukraine visa (valid for one entry).
(2) - double entry Ukraine visa (valid for two entries).
(M) - multiple entry Ukraine visa (valid till date of expiration)
TYPE (purpose of travel)
T - Ukraine tourist visa
SURNAME - Last name in Ukrainian/English
GIVEN NAME - First name in Ukrainian/English
PASSPORT #
VALID You may enter the Ukraine on this date or any time after but prior to expiration.
Day . Month . Year
VALID UNTIL You must exit the Ukraine on or before this date
Day . Month . Year
VISA #
SEX
DATE OF BIRTH
Day . Month . Year
NATIONALITY
APPLYING FOR UKRAINE VISA
Make sure your passport is valid for the whole trip and there is at least one blank page in Visas section. To apply for Ukraine visa fill out a Visa application form. You can download it from Ukraine Visas Service. Ukraine visa application form is in PDF format and requires Adobe's free Acrobat Reader.

Any application received on Saturday, Sunday and on any official American or Ukrainian holiday (January 1 & 7, March 8, Orthodox Easter, May 1-2 & 9, June 6, June 28, August 24) will be processed starting from the next business day.
TO OBTAIN A UKRAINE VISA AN APLICANT MUST SUBMIT
A valid passport with at least two blank pages in Visas section.
One completed Ukraine Visa application form printed or written in block letters in black ink.
One recent passport size photograph.
Letter of invitation (supplied at no additional fee by Ukraine Visa Service)
Submit your Ukraine Visa Order Form!
REGISTRATION IN UKRAINE
Registration in Ukraine is not required if the term of applicants' stay in Ukraine does not exceed 3 months.
ADDITIONAL INFORMATION
If you are interested in getting more information about a Ukraine visa, please visit Ukraine Visas Service.
Kiev Travel Guide

7320 N Dreamy Draw Drive
Phoenix, Arizona 85020
(602) 553-8178
FAX (602) 468-1119

Contact Us



THIS PROGRAM IS THE SOLE PROPERTY OF KIEV TRAVEL GUIDE AND MAY NOT BE COPIED IN ANY WAY OR FORM WITHOUT EXPRESS PERMISSION FROM KIEV TRAVEL GUIDE.

© COPYRIGHT 1996-2023 - ALL RIGHTS RESERVED.